Running, running
This is not the first time that I joined a 5K fun run. My very first was during the kick-off ceremony of St. Scholastica's College centennial anniversary. It was traumatic -- I had no preparations for the run. And, because I thought it was going to be purely "fun," the moment I lost sight of my friends, my interest to finish the run was gone too.

So what did I do while running alone? I turned in the 3K's route. What a shame, I know.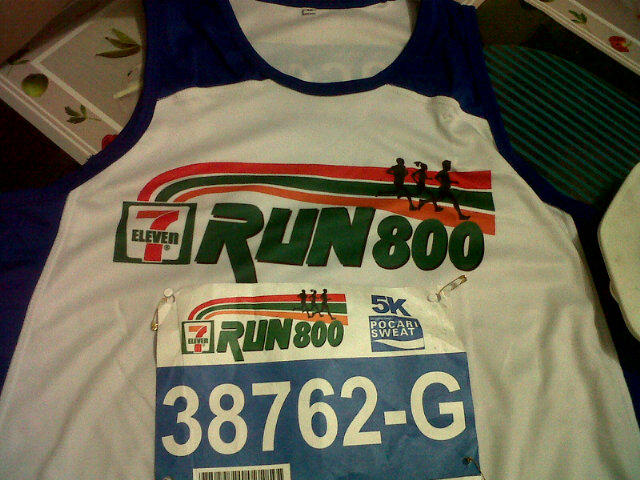 My singlet! Super proud of myself!!!
But the 7-11 800 run was different. I spent two weeks running everyday for about an hour with my partner-in-crime Shiela. At first, it was really difficult because I never really challenged myself this hard -- physically, that is. I don't play any sports and don't know one too.
So in my first few days, I would run for about a minute and walk for at least three or even more. But as days passed by, Shiela noticed I was improving. But not as fast as she is, though. She's very quick.
And you probably know what happened right?
I DID IT! I finished the run!
It was liberating. There were moments when I wanted to stop running but I knew it would be all the more difficult for me if I stop. My legs would "lock," says boyfriend Mike, if I stop running. So I didn't. I ran and ran and freed myself of all my worries. Before I knew it, I was almost at the brink of finishing it.
At that time, I felt that there was nothing else that I couldn't do. I know I've been berating you with my me-losing-my-will-to-do-this-self-imposed-healthy-living-shit for the past few weeks but my views changed.
I am more determined now. And I am proud to say that it's
task completed
.